1.Introduction of China Dental Lab
China Dental Lab LOYAL BEAUTY has provided dental products and services to the international market. China Dental Lab's zirconia crowns and crowns and bridges products have passed ISO13485 and ISO9001 certification and FDA registration. Safe materials are used in every dental product.
As a leading Chinese dental lab in China, LOYAL BEAUTY Dental Lab has exported dental products to Europe, America, Oceania, and other regions. China Dental Lab's dental products have helped thousands of dentists restore their patients' oral health and smile. LOYAL BEAUTY Dental Lab's corporate service philosophy is to provide more professional and better quality products and services than any other dental laboratory.
High quality and competitive prices make our products and services very competitive. LOYAL BEAUTY DENTAL LAB has a one-year product warranty, which has built a good reputation and trust among all customers and partners.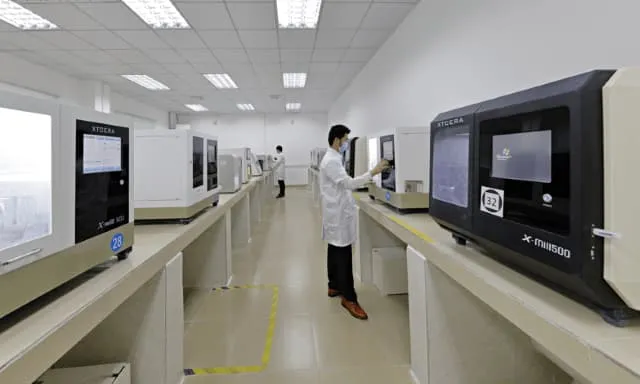 2.What is the specific thing about China Dental Lab
2.1Analysis of safety management in China dental lab
There are 20 basic oral laboratories, dental technicians laboratories, oral surgery laboratories, imitation mold laboratories, clinical trainee laboratories, porcelain casting laboratories, pouring molding laboratories, PBL laboratories. China Dental Lab has a variety of large and valuable experimental equipment and precision instruments and various experimental supplies, including flammable, explosive, and hazardous chemicals, such as alcohol, dental water, pressure air pumps, oxygen cylinders, arsenic trioxide, etc.
In addition, some experimental operations are carried out by R&D personnel and are invasive, which requires strict safety management from disinfection and sterilization, aseptic operation, standardization of experimental processes, and medical waste disposal. No matter which safety risk factor occurs, it can cause a laboratory safety accident. Therefore, to do an excellent job in the safety management of China dental lab, we need to consider various aspects to reduce laboratory safety risks, eliminate safety hazards, and prevent accidents.
2.2China dental lab safety precautions and management measures
Establish a risk list for safety management and control of China Dental Lab. China dental lab managers should target laboratory security, fire protection, instrument and equipment usage rules, practical skills operating specifications, disposal of experimental waste and medical waste, laboratory flammable, explosive and hazardous chemicals, poisons, corrosives, etc., the name, quantity, storage location and user management, and water, gas, circuit Hazard points with possible safety hazards are investigated and recorded one by one. A laboratory safety control risk list is established.
2.3Strengthen the safety standardization construction of dental labs in China
China Dental Lab installs smoke sensing and spraying facilities, and each China dental lab is equipped with fire extinguishers according to the area. Each floor corridor is equipped with monitoring, fire display panels, fire channels and doors, fire hydrants, water supply systems, other alarm devices, and fire and explosion-proof facilities. The Dental Hospital Protection Service deploys security personnel to test regularly. It maintains laboratory equipment to ensure that it is in good condition and everyday use, and security personnel conduct regular patrols. Porcelain casting laboratories, imitation mold laboratories, and clinical trainee laboratories are equipped with stabilized power supplies.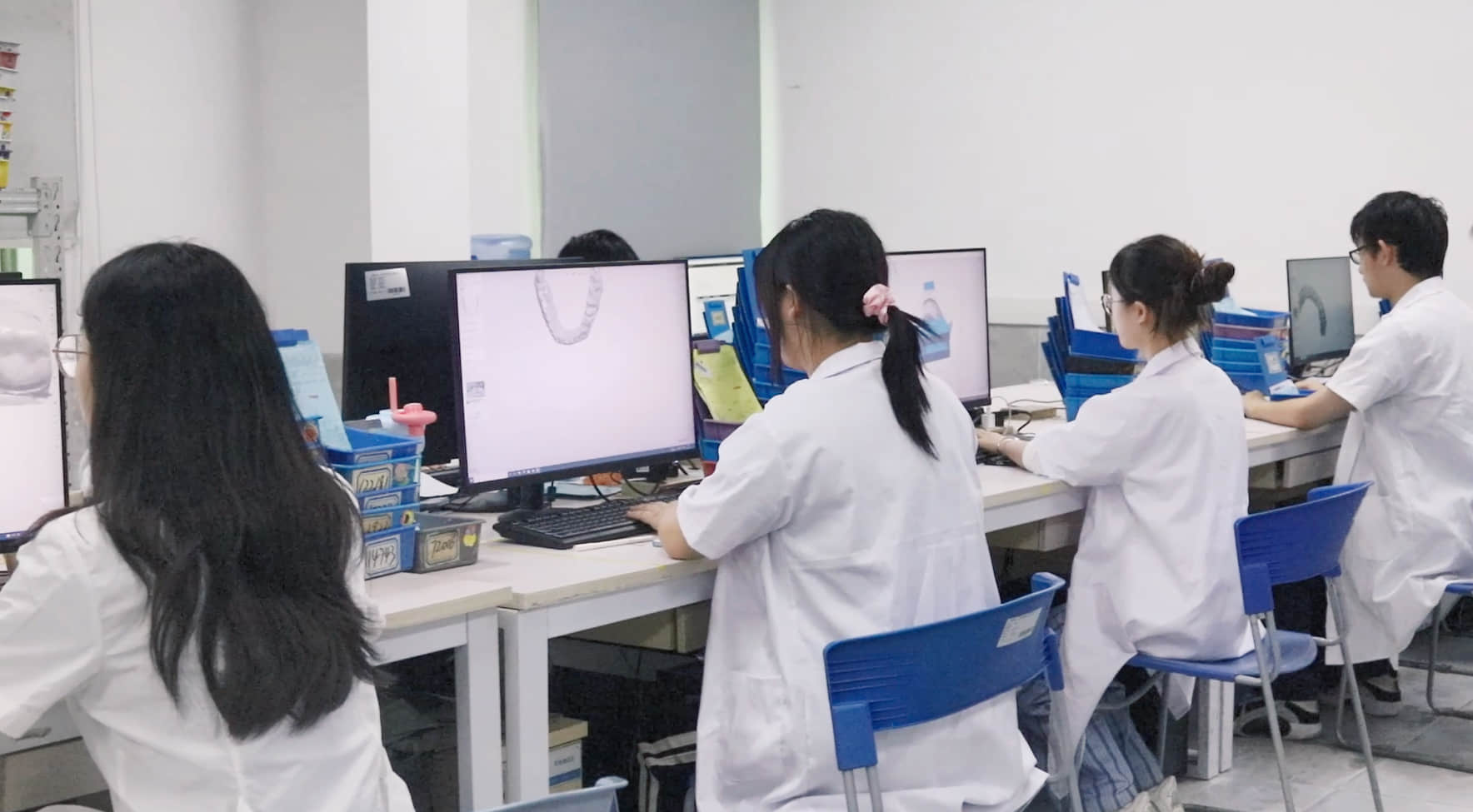 3. Prevention and control measures of danger points with potential safety hazards in dental labs in China
Disinfect the laboratory environment, dental comprehensive treatment table, and its supporting facilities before and after the disinfection experiment of China dental lab laboratory supplies. Experimental technicians should know the "Technical Operating Code for Disinfection and Sterilization of Dental Instruments" and master the correct disinfection and sterilization technology. According to the degree of experimental danger and instrument material characteristics, appropriate disinfection or sterilization methods are selected to ensure the disinfection and sterilization quality of instruments, medical dressings, isolated teeth, etc., prevent and control iatrogenic infections, and do an excellent job of personal protection when cleaning and disinfecting laboratory supplies.
Safety Management of Experimental Waste and Medical Waste by China Dental Lab The medical waste and medical waste generated during the experiment should be destroyed in time and placed in a sealed container with the words "for medical waste" printed with anti-leakage anti-sharp device penetration according to the category. The placement points of medical waste should be marked with warning signs and promptly disposed of through qualified units by the relevant requirements of the National Regulations on Medical Waste Management. Records should be kept to prevent the spread of disease, protect the environment, and eliminate potential safety hazards.
The use, storage, and management of flammable, explosive, and hazardous chemicals and poisons, flammable and combustible chemical reagents, etc., should be stored separately and strictly prohibited. Materials that emit flammable gases in contact with water must be moisture-proof and waterproof. Storage of oxidants should be kept isolated from reducing agents, especially organic flammables. At the same time, chemical reagents should be used because they are familiar with their physicochemical properties and hazardous characteristics to minimize safety accidents in China dental labs.
When placing oxygen cylinders in China Dental Lab, they should be kept away from heat sources, fire, flammable and explosive materials, and avoid direct exposure to strong sunlight. Oxygen should be stored at an average temperature, the working ambient temperature should not exceed 60℃, and the cylinder and bottle valve should be kept away from all kinds of oils. In the curing experiment of denture base resin, keep the laboratory well ventilated, reduce the concentration in the air, take protective measures when the concentration is high, and keep away from fire and heat sources when stored. Store high-concentration hydrogen peroxide in a plastic bottle with micropores at the mouth and keep it in a cool place.
Mercury, arsenic trioxide, etc., are stored in sealed glass containers containing water. Make a good record of the use and use of flammable, explosive, and hazardous chemicals. Check whether the storage and use of dangerous goods in China Dental Lab conform to the specifications at any time so that safety supervision and control of China Dental Lab are normalized.
The safety warning signs in the environmental safety management laboratory of China Dental Lab are obvious, and the operating procedures are affixed next to the instrument. Each laboratory is equipped with a temperature and humidity meter and an extensive instrument laboratory use record. Professionals regularly inspect laboratory water, electricity, and gas to prevent safety accidents caused by wire aging, short circuit, leakage, etc. China dental lab managers should keep the laboratory clean and tidy, free of debris, fire channels unobstructed, and cut off water, electricity, gas, and equipment switches before leaving the laboratory.
In the safety management of China dental lab, we should adhere to the principles of prevention first and safety first, and build a complete China dental lab safety management system from safety awareness, management mechanism, daily supervision, and construction of safety standardization of China dental lab, to effectively prevent laboratory accidents.
4.The mission and values of China Dental Lab
We have established China Dental Lab to restore beautiful and confident smiles to those in need. Smiling is the magic medicine to heal the people in your life. We are delighted and proud to be able to offer this service. Treat every crown, every case with care because this is unique and important to every customer from the other side of the world.