There are many kinds of all-ceramic teeth, so which one is suitable for posterior teeth? First of all, we have to understand all-porcelain from the basic materials:
China Dental Outsourcing Laboratory reminds you that all-ceramic teeth can be divided into:
Glass-ceramic
Particle-filled glasses
Polycrystalline ceramics
Resin/ceramic hybrid
The permeability of glass ceramics is the best, that is, in the incisor area, the teeth with no obvious discoloration of dentin use glass ceramics, which can be fake and real and very eye-pleasing.
The aesthetic effect of crystallized glass-ceramics is also quite good, and it has good crack resistance and bending strength.
However, if the front teeth have been discolored, it may be necessary to use poly-crystalline ceramics with better opacity, which is zirconium dioxide products that you often heard on the market, and then add glass-ceramic veneer to the surface.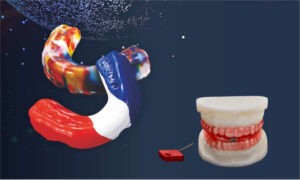 As for the use of resin/ceramic hybrid, because the discoloration and durability of resin materials are not as good as the above materials, there are usually two usages;
The temporary transition of teeth, which may need to be replaced in the future
The posterior teeth area, implants, after the gap is widened, can be directly repaired with resin
You have several options below:
1. Calypso (Zr+Procelain)
In fact, it is zirconia and veneer porcelain is added to the surface, the internal strength can reach 1200 (Mpa)
2. FMZ (Full Milled Zirconia)
This is an independent brand of this company, all of which are zirconium dioxide whose bending strength can reach 1000MPa. If you check, porcelain layering, then add veneer porcelain to the surface
3. FMZ Ultra
According to this company, it is more transparent than ordinary zirconia.
4. Procera (Zr)
Full zirconia crown, no veneer porcelain, so it is not suitable for anterior teeth
The flexural resistance of 1.5 mm thickness reaches 1232N, and the flexural resistance of 2.0mm reaches 2450N.
5. Empress Esthetic
Leucite glass-ceramic-based crystallized glass-ceramics have a particularly good aesthetic effect, so they are more suitable for anterior teeth that have no obvious discoloration or have not undergone root canal treatment, but are relatively brittle (160Mpa).
6. E.max
Crystalline glass-ceramics based on Lithium disilicate have very good permeability, and many people choose the E-max series. The strength can reach the strength of ordinary tooth enamel (470Mpa-530Mpa), which is also more suitable. It's mostly used on anterior teeth that have no obvious discoloration or have not undergone root canal treatment.
7. Lava
There is zirconia inside of 3M series and a layer of veneer porcelain is added to his lips or cheeks, but there is no occlusal surface. Strength (1000Mpa-1100Mpa)
8. Lava Plus (high translucency)
LAVA plus is also a product of zirconia, why LAVA Plus is more transparent than LAVA is because its particles are arranged more neatly, so the light transmission is better, and its high strength (1100Mpa), it can be made thinner, naturally and thus more transparent.
9. Lava Esthetic
The permeability is more transparent, but the strength (800 MPa) is reduced. Lava Esthetic Zirconia is also a zirconia product, containing 5 mol% yttria.
10. Lava Ultimate (resin)
3M™ESPE™Lava™Ultimate adopts nano-ceramic technology. This new material, which is called Resin Nano-Ceramics (RNC), is unique in terms of durability and functionality. The material is not brittle and has fracture resistance. The strength is not as strong as the zirconia crown (150Mpa-200Mpa).
11. Composite
They are ordinary resin teeth
So in summary, you should comprehensively when choosing an all-ceramic tooth, consider the color of the abutment, the permeability of the selected material, and the strength.
Personally, I prefer using a full zirconia crown on the posterior teeth without veneer porcelain because the posterior teeth are usually not visible
The anterior teeth depend on whether there is root canal treatment, and whether the original teeth are stained and need to be shaded
If there is no coloring and no root canal, E-max and Empress are the first choices, of course, LAVA-aesthetic can also be used. If you have a root canal, you can consider LAVA or LAVA plus.
Brands for choose:
Cercon (German):
Bending strength: about 1200 MPa, the bending strength is also high, it is particularly strong and durable, not easy to break, it feels good when chewing, and there is no need to worry about the weight-bearing function of chewing.
Aesthetics: The world's highest-end zirconia material is used, and the base crown color is tooth whitening, which makes up for the "black line" problem of traditional porcelain tooth necks. The appearance is more beautiful and lifelike, close to the color of real human teeth.
Features: The only closed system on the market—-zirconia blocks, cutting machines, and porcelain powder are all complementary products. It can delay the loss of strength and prolong the use time, so the effect is better in the long run, and the porcelain is not easy to collapse.
Lava ( US)
Bending strength: about 1440 MPa, the hardness is at the top level
Aesthetics: There are eight color base crowns to choose from, the color is transparent because the price is relatively high, the naturalness of the color can be greatly assured.
Features: Each full-ceramic crown tooth has its own unique code, which can be checked on the official website to prevent people from being shoddy.
It enjoys a 5-year manufacturer's warranty everywhere in the world and is currently the only porcelain tooth with similar services.
Precise edge suitability, and can adapt to many diseases and is often used as a bridge restoration in the posterior tooth area.
Procera (Sweden)
Robust and aesthetically pleasing, 20 years of personalized production experience;
Uniqueness: The top-notch dental restoration materials are combined with the world's only industrialized production of personalized crowns, bridges, and veneers, and more than 6 million crowns have been produced worldwide;
Digital personalized design: The technical system is based on the latest scanning, cad/cam and production technology to provide personalized dental restorations;
High strength: extremely high flexural strength (120mpa), ensuring long-lasting function, and breaking rate less than 0.5%;
Low wear rate: to ensure low wear rate and no damage to jaw teeth;
Very low solubility: good compatibility with soft tissues in the oral cavity.
It has a wide range of applications and can be used for dental implants, dentures, and other restorations.
Stable color: excellent stability and long-term beauty.
If you have any custom requirements for all-ceramic teeth, you can contact China Dental Outsourcing Lab-LOYAL BEAUTY.