Send a case to China dental lab LOYAL BEAUTY
Thank you for choosing LOYAL BEAUTY, a Chinese dental laboratory, the go-to resource for dental practice. We understand your busy schedule, which is why we make it easy for clinicians to send us their cases. Select your case submission method below and follow simple step-by-step instructions to send your traditional case or submit a digital file from your digital impression scanner.
Make sure to have all the requirements before contacting us!
If you plan to send a box with a traditional impression, please download, print and fill out the prescription form.
Please include all necessary information including patient name and date, case specifications, shading and stump shading (if required) and design.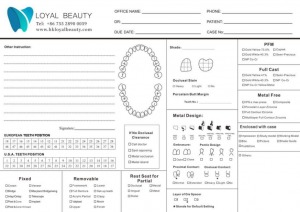 If you can follow the list below, send the traditional case to China dental lab LOYAL BEAUTY.
Doctor's name

Practice name

Phone number

Email address

Address

City

Zip code

Standard ground transportation

Create a shipment
Follow these steps when sending your case to China dental lab LOYAL BEAUTY to ensure safe delivery.
Remember to include the following items when sending your implant case:
Any other hardware associated with the case

X-ray or CT scan

Organization type

Opposite model

Occlusal registration

Shade Description
Before sending your case, you need to do the following:
Sterilize all box materials, place in bags and seal. Wrap the model individually and securely with bubble wrap. Additional bubble wrap should be added to fill the box to avoid movement and possible breakage during shipping.
Loose crowns, bridges, or shades: Place in individual small containers or airtight plastic bags and wrap individually to avoid loss or breakage. Any accompanying photos or slideshows should be placed in a plastic bag for protection.
Articulator and Facebow: Remove the model from the articulator and wrap or individually. If the model is left on the articulator, separate the articulator. Then each piece should be individually packaged and secured in a box. The facebow and other shells should be wrapped separately.
Put the foam on the bottom of the box.
Separate the model to ensure impression and bite.
It is very important to pack all items correctly! Please put all small items such as implant parts and bites in separate bags or boxes. To help China dental lab LOYAL BEAUTY run efficiently, please attach all necessary materials including implant components and complete requirements.
Wrap all models in bubble wrap and place foam pads on the bottom of the case. Your attentiveness will ensure that we receive all items intact.
Sending your digital impression to LOYAL BEAUTY Dental Lab can also send other digital files such as patient photos, CBCT scans, and more.
Scanner type reference is as follows:
ITERO®

TRIOS

3M™

CARESTREAM

OTHER SCANNERS
China Dental Outsourcing accepts digital impression scans from any IOS system. If you have any questions or would like to send us a digital case, please email our team.
If you are submitting multiple files, please zip all related files into the same archive file.
The collection method of each material is as follows:
PFM and all-cast restorations
Design files related to PFM and all-cast cases are forwarded to 3D printers, which extrude wax or plastic material to build the restoration layer by layer. These printed restorations are then dipped into the embedding material to create a reverse mold of the approved restoration design into which the desired material can be pressed. Similar to the overall situation, the final coloration and characterization of the PFM restoration was done by hand.
Implant Restoration
The components required for the implant housing are manufactured in-house using a separate range of milling machines, and our ISO certified implant manufacturing facility allows us to provide the highest quality implant restorations at an affordable price.
Removable, topical and preventive appliances
Scan data of removable, partial and prophylactic appliances is used to create digital models of patients. This digital model is then 3D printed, creating a physical model on which traditional laboratory techniques can be used to create the desired equipment.
Once your scan data has been transferred to China dental lab LOYAL BEAUTY, a team of professional dental technicians will conduct a small clinical assessment to verify that each case is ready for production.
Approved cases are then distributed to the appropriate technical department based on the material and restoration type requested by the clinician.
At the LOYAL BEAUTY dental laboratory, nearly 99% of case designs are processed using dental design software. These specially designed procedures allow our experienced dental technicians to shape every aspect of the restoration.
After the digital restoration design is complete, the design files are transferred to the appropriate production team based on the material and restoration type requested by the clinician.
Below is a brief overview of the various processes and techniques we employ in our various laboratory services.
Whether clinicians send cases digitally or using traditional impressions, all restorations at China dental lab LOYAL BEAUTY are manufactured with the same cutting edge technology and techniques. Our mission is to bring the benefits of these technologies to clinicians and patients around the world.
Save you the time and hassle of sending traditional cases by uploading your digital impression directly to the LOYAL BEAUTY dental laboratory.
89% of customers ask the following questions: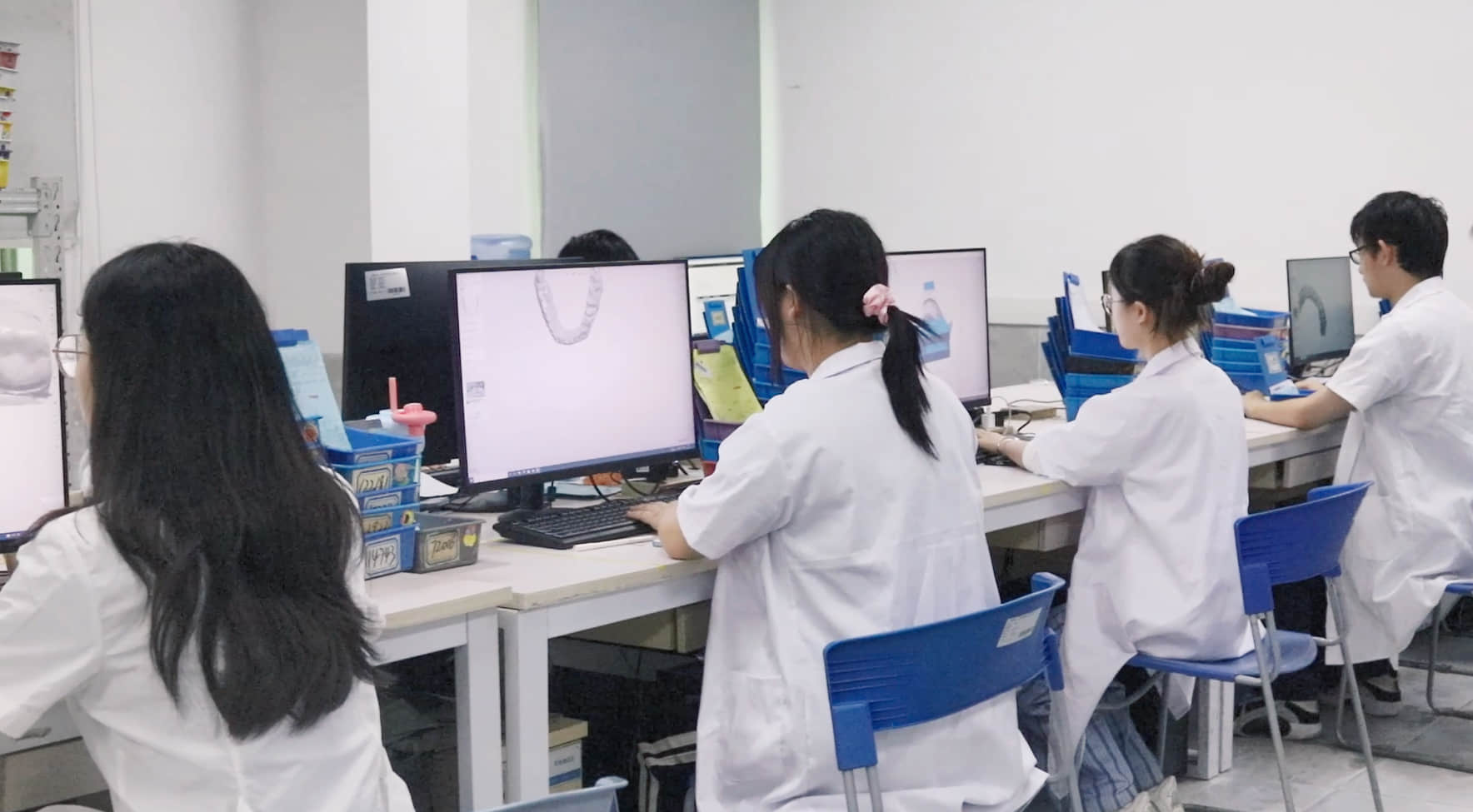 LATEST INFORMATION ON DENTAL DESIGN
China dental lab LOYAL BEAUTY provides you with the latest product information and industry news.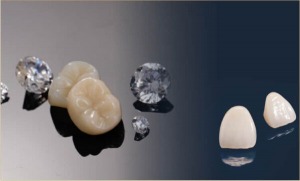 Dental crowns are an important part of modern dental care that can restore the look and feeling of a healthy smile. Made up of a
Read More »