All Ceramic Crown is a denture that does not contain a metal layer and is completely cut and fired from ceramic. Because there are fewer unattractive metal layers, all-ceramic teeth are the perfect natural dentures today, and they can achieve the same transparency and aesthetics as your natural teeth.
 Application of All Ceramic Crown
Teeth that require root canal treatment or are excessively damaged can use all-ceramic crowns to restore their aesthetics.
Repair dental defects, repair enamel hypoplasia, repair dentition defects, repair deformed teeth, misplaced teeth, etc.
If the edges of the old dentures are not close or darkened by dyeing, replacing them with all-ceramic crowns is also recommended to prevent the problem from worsening.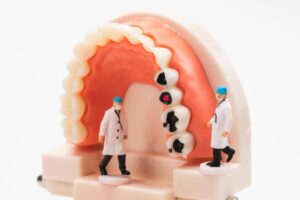 Advantages of All Ceramic Crown
1. Gum health
Nichrome metal, also known as base metal, has severe irritation to gums. Some people (especially women) are allergic to it, causing swelling and bleeding gums, and even patients are allergic to precious metals. All-porcelain under China dental outsourcing services has not found any sensitive cases.
2.transparent
This is an impossible task for porcelain, because the inner Crown of the metal is opaque, and opaque porcelain needs to cover the metal substrate, affecting the transparency of the restoration, so that porcelain has obvious chalk, pale, false, and "black lines" caused by metal substrates on the neck affect aesthetics.
3. Will not cause wear
All Ceramic Crown porcelain crowns are harder than tooth enamel and can cause wear and tear on the jaw teeth. The hardness of all porcelain is similar to that of tooth enamel and does not cause wear to the jaw.
4. Discoloration of gums
The metal oxidizes in the oral cavity to form gray oxides scattered and deposited to the edge of the gums, causing the gums to become gray, affecting aesthetics; Dental Design's All Ceramic Crown does not have this problem.
5. Combination of inner and outer crowns
The combination of metal and porcelain is a weak link, and porcelain and metal can often be seen peeling off, revealing gray and black metal. All porcelain is porcelain on the inside and outside crowns, and this does not happen in the combination of porcelain and porcelain.
How to choose the right All Ceramic Crown between cast porcelain, alumina, and zirconia crown
According to the patient's tooth condition and subjective requirements, choose the appropriate all-porcelain material – cast porcelain has the best permeability among the three, followed by alumina and third Zirconia. And the relationship between strength is precisely the opposite.
Therefore, cast porcelain can be preferred for front teeth and single crown strength requirements; Zirconia Crown with slightly poor permeability can be selected for lower brightness of abutment or opposite teeth, or darker color such as tetracycline teeth; alumina or Imei III cast porcelain can be chosen for three-unit front tooth crowns, while multi-unit or posterior tooth crowns are better to select Zirconia Crown with high strength.
Clinical precautions for dental design
when preparing the abutment, cut, surface preparation gap should be 1.5~2.0mm, cheek, tongue, adjacent surface preparation gap is 1.2~1.5mm, so that porcelain has a specific thickness to ensure its strength and color; neck shoulder platform, shoulder width 1mm, shoulder table inner angle (with prepared base teeth lip cheek tongue wall angle) should be rounded to resist from cutting edge direction to prevent the edges of porcelain from breaking.
After preparation, all sides of the abutment should be smooth, the line angle is blunt, and there should be no sharp angles to avoid stress concentration and fracture of the porcelain crown.
When trimming the shape of All Ceramic Crown, the polishing equipment used for metal should not be used on porcelain to avoid discoloration caused by metal particles buried in porcelain pores. When approaching a sharp edge of porcelain, gravel should be moved from the edge to a thicker area to prevent the porcelain edge from breaking.
When trying on toning, let the patient wet the porcelain crown and adjacent teeth with saliva, evaluate the color under natural light, incandescent lamps, and fluorescent lamps. It is best to choose a color that matches well under various lighting conditions.
Before the Crown is bonded, the tissue surface should be cleaned, acid-etched, and used with a silane coupling agent to improve the bonding strength. The binder can be double polymerized resin, water mention, zinc phosphate, and glass ions. Since the binder has a particular influence on the final color of the translucent porcelain crown, it is best to use resin water mention with matching color.
Teeth impeded on edge will cause stress at the cutting end of the prosthesis, deep covering teeth will cause tension on the crown tongue side and cause half-moon fracture, and too short teeth will have insufficient retention force. Therefore, avoid making full porcelain crowns for patients with opposite blades, deep coverings, and too temporary crowns.